Earlier this year, we had the chance to speak at the ECRD conference and directly address the decision-makers in the European Commission. Below you can find an excerpt from Danielle's speech:
Below is an excerpt from my speech at the ECRD, 2022.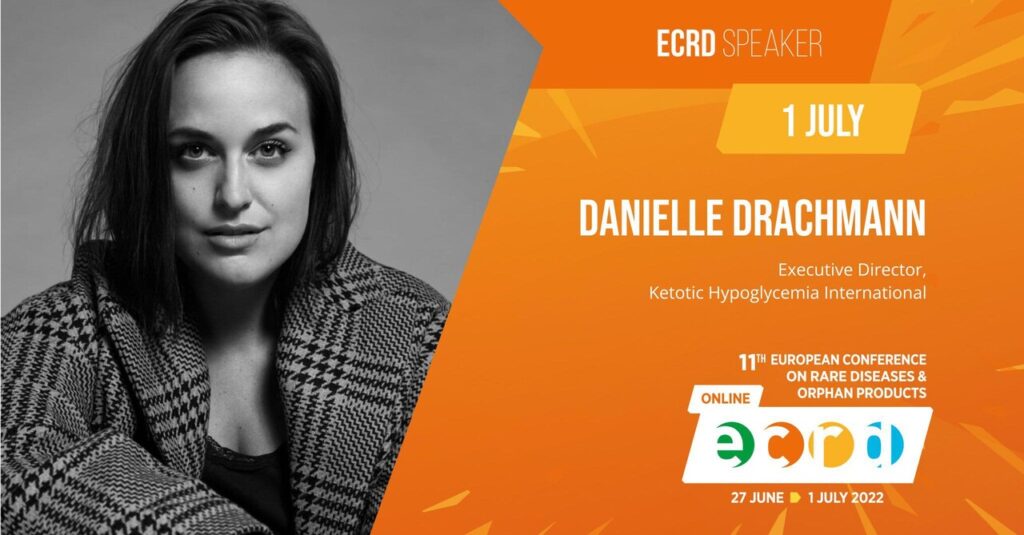 KHI's message to the European Commission, ECRD 2022
Thank you very much for having me here today.
I am a mother to two beautiful children living with the rare disease, pathological idiopathic ketotic hypoglycemia. What is less known is that I am a rare disease patient myself. I was diagnosed after my children received their diagnosis.
I am not a medical doctor, nor was I educated in how to conduct research – but after years of life-and-death levels of necessary commitment, I consider myself an expert.
An expert by necessity…. not an expert by choice.
I have dedicated years of what should have been the sunrise hours of motherhood to finding a cause and a cure for my children. Time spent in front of the pale blue light of a computer screen and not with my beautiful children.
Through necessity, I have been blessed to work with affected families and leading experts, in the field of rare and complex hypoglycemia.
This I have done for 5 years now. That's half a decade, and I have yet to live for three.
Finally, after what seems to be a lifetime of reading papers, talking to families, and working with medical experts, we are now able to create change by leading and initiating research, and publishing medical papers, hopefully preventing other rare disease families from living with the catastrophic consequences of undetected hypoglycemia.
Much has happened since we created the recommendations in Rare2030. But much more is left to be done.
Optimistic rhetoric, polite handshakes and all the LinkedIn updates in the world will only do so much. The work that needs to be done requires political action.
1. A Partnership with Patients
I would like to start this off by talking about how we ensure the successful implementation of the recommendations.
After half a decade of daily wrestling with a rare disease, I have come to the conclusion that the key to unlocking all of our recommendations is quite simple; it's through partnership between experts and the affected families.
2. A European and National Plan
Since we in each rare disease do not have huge numbers, those luxury data sets, the research partnerships between affected families and medical experts must be formed and supported. To identify the most relevant research question, we need the affected families to identify the most urgent knowledge gaps – gaps even the most specialized doctor might not be able to see.
Without these partnerships, we may as well be fighting fog.
As such, the only path forward is one where patients and experts walk side by side.
What this means practically is that we need to form a European and national plan for partnering up with rare disease patients – just as we stated in our recommendations. This will ensure true innovation, measured impact, and a need-led research and development approach.
The rest of our recommendations will follow, but we will not move an inch without harnessing the knowledge from our families impacted by rare diseases.
Ladies and gentlemen – there is hope! These partnerships are already forming within rare disease organizations all over the world. An example is the research work done by Ketotic Hypoglycemia International – also known as "KHI". The future of my children lies in the volunteer partnership between medical experts and affected families in KHI.
Like many other patient-driven research projects, this work is done by necessity, by overburdened rare disease experts, and overworked moms and dads, brothers and sisters, often on top of existing working hours and battling constant caregiver duties.
3. A call for help
From the rare disease odyssey with repetitive sleepless nights and deafening feelings of isolation, a brand-new research field has blossomed as a consequence – one that has been creating ripples across medical organizations and industries worldwide:
It is called; "Patient-driven health research"
Wow. Our own research methodology. A brand-new field. It sounds exciting, right?
Here's the tough part. What you probably don't know.
Unlike many forms of medical research, ours is not one that is backed by billions of dollars in funding, lucrative investment actors, or even government aid – it is back-breaking labor that is picked up, carried out, and put to work by double-shift mothers and overworked fathers, many of whom often do this selflessly to little credit.
Well, I would like to credit them now, but I would like to do more than just give them a pad on the back.
There are some powerful people in the room with me here today. People with influence.
I would like to formally address the following to the European Commission in the following request:
Invest in the needed infrastructure to support co-created health research and patient-doctor partnerships on a European level. Both in the hospitals and within the organizations.
We have carried the unfunded research burden this far, but there's only so much that can be done without substantial access to funding and resources.
4. The Good, the Bad, and the Unspoken
Finally, I leave you with this.
What are the consequences of doing co-created health research with no funding, outside working hours, and no infrastructure?
What do you think?
You, listening right now. This is your time to put your phone down, and listen up.
Titles like working-analyst-mom and self-taught-researcher-dad might sound impressive at a conference like this – they might even look admirable in a LinkedIn post. Trust me, I am a master of impressive LinkedIn posts.
But the unfortunate reality is that very often – because the life of your child is on the line – the research part has to take the front seat so that your child doesn't die in the back seat from unexpected complications of the rare disease we didn't have the resources, or the funding to cure.
Please don't leave us alone with that level of responsibility.
5. A call to action
Rare disease experts and affected rare disease families in Ketotic Hypoglycemia International will soon publish a new peer-reviewed paper, presenting The Good, the Bad, and the Unspoken consequences of shaping unfunded, co-created health research in a patient organization. This is a reality of our work, we have never told before.
Unified, the rare disease families and the experts all over the world have lifted the work that had to be done to the best of their ability, without support.
Now, finally we call upon the European Commission for help.
So – what will you do? Will you let these fiery souls burn out?
How did you respond, and what became of all of this?
Well, that's entirely up to you.
Reception
Our talk was well received and was featured as one of the defining moments of the conference: The defining "moment" at the European Congress on Rare Diseases & Orphan Products 2022.
What's next?
While the speech was received and reported on, what really matters is whether or not we will be seeing any substantial action on the part of the European Commission over the next couple of years.